Select an executive to read their full profile.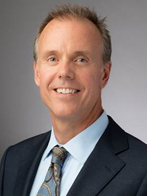 Steve Hamman
President

Steve Hamman was appointed president of Blue Cross and Blue Shield of Illinois (BCBSIL) in July 2019.
As president, he is responsible for the overall financial performance, long-term growth strategy and strategic planning of the state's largest health insurance company, which serves almost nine million members with over $22B in revenue.
Steve joined BCBSIL in 1991 and has served in a variety of management roles within the company during his tenure at BCBSIL and at Health Care Service Corporation (HCSC) — which operates Blue Cross and Blue Shield Plans in Illinois, Montana, New Mexico, Oklahoma, and Texas. He most recently served as senior vice president, Enterprise Network Solutions and Provider Partnerships. In this role he was responsible for HCSC's network and provider partnership strategy and investments, provider and network analytics, alternative payment model development, and affordability of care across HCSC's five markets.
Steve holds a bachelor's degree in Economics and Mathematics from Colorado College, and a master's in Business Administration in Information Systems from the Quinlan School of Business at Loyola University in Chicago.
He currently serves on the boards of Innovista Health, Dearborn National and non-profits Special Olympics Illinois, Chicago Architecture Center, Matter Chicago, Eikon Group and New City Church while also actively participating on advisory councils for the Heritage Group and Madison Dearborn Partners.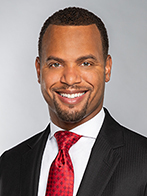 Derek J. Robinson, M.D., MBA, FACEP, CHCQM
Vice President and Chief Medical Officer
Dr. Derek J. Robinson serves as vice president and chief medical officer for Blue Cross and Blue Shield of Illinois (BCBSIL), where he is responsible for clinical leadership, care management operations, and the Institute for Physician Diversity®.
Previously, Dr. Robinson was vice president at HCSC, where he established the Enterprise Quality and Accreditation department and was responsible for clinical quality performance, health plan accreditation, and related operations across multiple states. He established the HCSC Health Equity Steering Committee and served as chairman from 2015 to 2021.
Dr. Robinson is an active member of the community and was appointed in 2021 to the Medical Advisory Committee for the State of Illinois. He is a member of the board of directors at the Cook County Health Foundation and vice-chairman of the Board of Trustees at Xavier University of Louisiana. Dr. Robinson is a member of the Economic Club of Chicago, where he is the 2020-2022 chairman of the Young Leaders Committee. He also volunteers as an official with Illinois Swimming and is a nationally certified judge with USA Swimming. 
Dr. Robinson is the recipient of numerous awards including Crain's Chicago Business 40 Under 40, 40 Game Changers Under 40 - Ariel Investments, and the 2019 Leadership in Healthcare Award by National Medical Fellowships, Inc. Savoy Magazine recognized Dr. Robinson in its list of 2020 Most Influential Black Executives in Corporate America.
An active emergency medicine physician, Dr. Robinson is board certified by the American Board of Emergency Medicine and holds degrees from Xavier University of Louisiana, Howard University College of Medicine, and the University of Chicago Booth School of Business.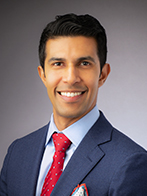 Krishna G. Ramachandran
Divisional Senior Vice President, Health Care Delivery

Krishna G. Ramachandran currently serves as divisional senior vice president of Health Care Delivery at Blue Cross and Blue Shield of Illinois (BCBSIL). In this role, he is responsible for contracting and collaborating with providers in Illinois to improve health outcomes, reduce costs, and enhance the quality of care for BCBSIL's more than 8,000,000+ members by aligning incentives and using actionable analytics and data exchange capabilities.
In his prior role, Ramachandran led the Network Solutions team for HCSC, which operates the Blue Cross and Blue Shield plans in Illinois, Montana, New Mexico, Oklahoma, and Texas. At HCSC, he was responsible for developing and executing strategy and operations for company-wide initiatives such as value-based care, health data exchange and provider analytics and reporting.
Ramachandran is passionate about collaboration, innovation, and use of analytics and incentives to improve patient access, outcomes, and to reduce cost of care. Prior to joining HCSC, he served as chief administrative officer, chief information and transformation officer, and executive director of value-driven health care at DuPage Medical Group (now Duly Health and Care) and its subsidiary managed services organization. He also served as director of technical services of Epic Systems Corporation, a leading provider of health care software, working with health systems across the nation.
Ramachandran holds a Bachelor of Engineering degree from Birla Institute of Technology and Science (India); a Master of Science degree in Electrical and Computer Engineering from the University of Illinois at Chicago; and an MBA from Northwestern University's Kellogg School of Management. Ramachandran is also an instructor in The University of Chicago's Master of Science in Biomedical Informatics program, teaching the "Big and Little Data in Health Care" course. He has also been a Leadership Greater Chicago Fellow since 2020.
In his free time, Krishna volunteers on the board for nonprofit organizations like the LGBTQ+ Center on Halsted and Mercy Housing Lakefront, advises start-up companies, and enjoys traveling to different countries.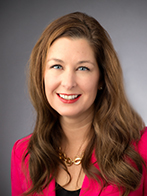 Harmony Harrington
Vice President, Government and Community Relations
Harmony Harrington has 20+ years of experience in public affairs, including leadership roles in Illinois state government and with national health care corporations. As vice president of Government and Community Relations for Blue Cross and Blue Shield of Illinois, she leads the company's external advocacy efforts for accessible, affordable, and quality health care for BCBSIL members and its work to improve community health and health equity across the state through BCBSIL's community engagement work – Blue Door Neighborhood Centers, volunteerism, health education and outreach, mobile Care Van programs, and community investments.
She also leads the development and execution of strategies for internal and external communications across corporate reputation, crisis communication, policy, public and media relations.
Harmony has extensive experience managing regional, state and local government, advocacy and corporate affairs efforts. She previously led corporate affairs efforts for Humana, Inc. in the Midwest region, setting and executing external advocacy efforts supporting all Humana lines of business. 
Prior to her work at Humana, she served as director of State Government Relations for Blue Cross and Blue Shield of Illinois as well as manager of State Government Relations for the northeast, mid-Atlantic and southern regions at Walgreen Co.
Prior to her corporate government affairs, community relations and communications experience, Harmony served in various roles in Illinois state government including Staff Attorney for the Illinois House of Representatives, and leadership roles within the Office of Lieutenant Governor Pat Quinn and the Office of Lieutenant Governor Corinne Wood. 
Harmony earned her Juris Doctor from Loyola University Chicago College of Law. She and her husband live in Park Ridge, Illinois with their three children, where she serves on her local city council as alderman for the 4th Ward, elected to a four-year term in 2021. She also serves on the board of directors at Haymarket Center, the largest nonprofit addiction and behavioral health recovery center, as well as WINGS, Inc., working to eradicate domestic violence and provide support and resources for survivors.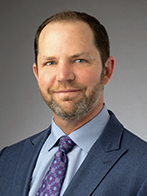 Brian Snell
Divisional Senior Vice President, Illinois Group Markets

Brian Snell leads sales and account management for all Illinois group market segments and works to ensure that BCBSIL continues to deliver customer-first operational excellence by anticipating customer needs and offering data-driven solutions.
Prior to assuming his current position, Brian served as vice president, Sales. In this role, he led new business growth in the small, middle, large and national/major account segments. He also had account management responsibility in the middle and large group segments in Chicago.
Brian is an accomplished leader with more than 25 years of experience with BCBSIL, having previously served in roles in underwriting, account management and sales.
Brian currently serves on the Board of Directors for Envision Unlimited, a nonprofit organization that provides care for people with intellectual and developmental disabilities. He also serves on the Board of Directors for the Illinois Manufacturing Association. Brian holds a Bachelor of Arts from the University of Illinois and an MBA from DePaul University.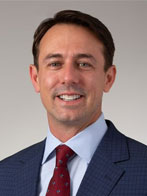 Mark Tomaszewski
Head of Market Strategy, Blue Cross and Blue Shield of Illinois

Mark Tomaszewski leads Market Strategy for Blue Cross Blue and Shield of Illinois. In this role, he is responsible for leading the development of financial and business plans, strategic partnerships and performance improvement initiatives to ensure a continued competitive position in the Illinois market.
Tomaszewski has more than 15 years of strategy, finance and operations-related experience, both as a management consultant and within the health care industry. He comes to this role from the HCSC Government Programs division, where he led financial and process improvement initiatives across Medicaid, Medicare and Duals programs, including for the Illinois Plan. Tomaszewski also led the Government Programs project portfolio and was responsible for the Oklahoma Medicaid managed care business case and program implementation.
Prior to joining the company, Tomaszewski spent more than a dozen years in the consulting world at Slalom and Towers Watson, predominantly advising health plans, pharmacy benefit managers (PBM), self-funded employer groups, health IT companies and provider systems.
Tomaszewski is a graduate of Dartmouth College (BA) and Emory University (MBA and MPH). He resides in Chicago's Lakeview neighborhood with his wife and three daughters. He enjoys running, biking and Lake Michigan in the summer, and downhill skiing in the winter.